Whai Rawa Whai Ora | Reconnecting with a Mana based economy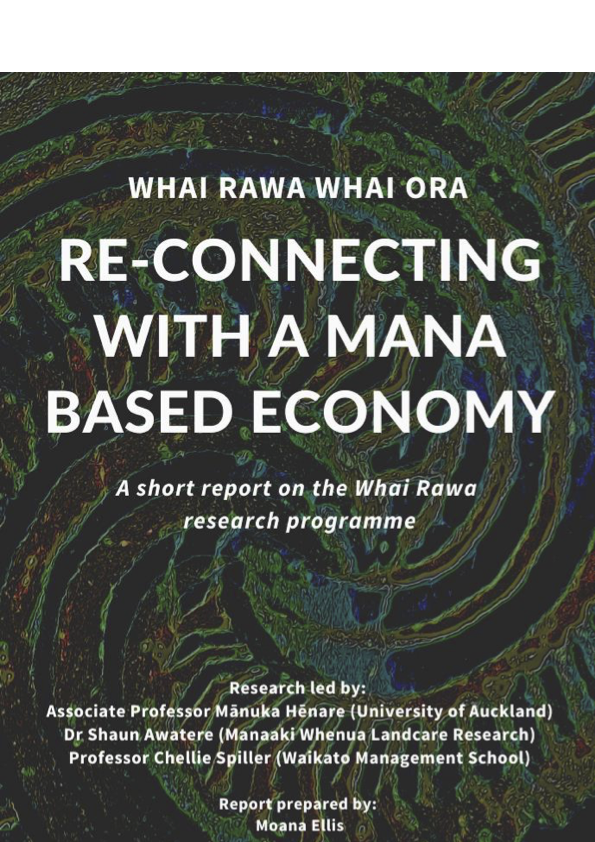 'Re-connecting with a Mana Based Economy' is a short report on the Whai Rawa Research Programme. This research sets the conditions, context and parameters for re-linking with Māori and tribal economies founded upon a unified socio-spiritual-ecology framework.
The body of Whai Rawa research represents a collective drive to map the enduring features, characteristics and practices of Māori and tribal economies based on Te Ao Māori values, philosophy and mātauranga. This overview of the research acknowledges the contribution of Mānuka Hēnare and the team of Whai Rawa scholars committed to the vision for a healthy Māori wellbeing economy. It brings together insights from across the five years of diverse and wide-ranging research strands to inform future research on Indigenous economies of wellbeing and to establish a Māori economic development strategy.
The report was prepared by Moana Ellis (Uenuku, Tamahaki, Kahungunu, Tūwharetoa) as part of the inaugural Ngā Pae o te Māramatanga Named Internship research series. This 2020-2021 Research Internship was named for Associate Professor Mānuka Hēnare.
Key Whai Rawa Researchers
Dr Maria Amoamo, Dr Shaun Awatere, Associate Professor Maria Bargh, Dr Hekia Bodwitch, Dr David Brougham, Associate Professor Anna Carr, Dr Lynette Carter, Dr Jason Cordier, Dr Kiri Dell, Dr Annemarie Gillies, Professor Jarrod Haar, Associate Professor Ella Henry, Dr Dan Hikuroa, Associate Professor Carla Houkamau, Associate Professor Robert Joseph, Professor Merata Kawharu, Dr Gianna Leoni, Dr Billie Lythberg, Dr Jason Mika, Dr Jamie Newth, Dr Robert Pouwhare, Dr Mylene Rakena, Dr John Reid, Associate Professor Maree Roche, Associate Professor Matt Roskruge, Dr Matthew Rout, Dr Katharina Ruckstuhl, Associate Professor Diane Ruwhiu, Distinguished Professor Graham Hingangaroa Smith, Professor Chellie Spiller, Professor Paora Tapihana, Associate Professor Te Maire Tau, Benjamin Te Aika, Dr Rāwiri Tinirau, Fiona Wiremu, Dr Rachel Wolfgramm, Tania Wolfgramm