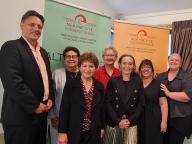 2022 Nov 23 9:00 AM to 2022 Nov 23 5:00 PM
NPM was thrilled to extend a warm welcome to the directorship team from the newly funded ARC Centre of Excellence for Indigenous Futures. Hosted by the University of Queensland, the Centre is the first ever ARC Indigenous-led Centre of Excellence. The Centre aims to transform and improve the life chances of Indigenous Australians by utilising Indigenous knowledges to better understand and address the complex nature of Indigenous intergenerational inequity. 
We look forward to walking alongside our friends and colleagues from Te Whenua Moemoeā in coming years. 
From left to right: Professor Brendan Hokowhitu (Director), Distinguished Professor Aileen Moreton-Robinson (Deputy Director and Law and Justice theme leader), Professor Brownyn Fredericks (Education and Economics Theme Leader), Linda Waimarie Nikora, Tahu Kukutai, Assc. Professor Crystal McKinnon (Victoria Node Leader and Law and Justice co-theme Leader), Marie-Chanel Berghan.