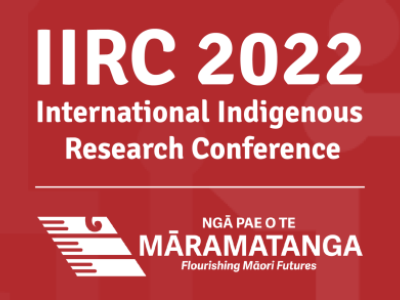 Celebrating 20 years of being Aotearoa New Zealand's only Indigenous Centre of Research Excellence, Ngā Pae o te Māramatanga (NPM) are excited to invite you to join us online from 15 – 18 November 2022 for our 2nd virtual and 10th International Indigenous Research Conference (IIRC).
A critical challenge facing Māori development is the challenge and opportunity of distinctiveness. What in particular can the Māori world bring to enhance New Zealand generally? This question will underpin the forthcoming Inaugural Professorial Lecture of Te Ahukaramū Charles Royal, Professor of Indigenous Development (Faculty of Arts) and Director of Ngā Pae o te Māramatanga, a Centre of Research Excellence hosted by The University of Auckland.

The August issue of MAI Review is available at www.review.mai.ac.nz It contains a mix of articles, reflections and poetry.

Dr Daniel Hikuroa, a world leader in the integration of indigenous knowledge and science, has been appointed Research Director of Ngā Pae o te Māramatanga, a Centre of Research Excellence hosted by The University of Auckland.

Ngā Pae o te Māramatanga is pleased to announce applications are now open for its 2011 doctoral scholarships.
There are three NPM doctoral scholarships available to students who are enrolled (or in the process of enrolling) in a recognised doctoral programme of study and research at a tertiary institution.

The scholarships support doctoral study in the area of indigenous development research and aim to develop excellent research capabilities to deliver research in two specific areas:

Ngā Pae o te Māramatanga Research Director Dr Dan Hikuroa appeared on Media 7, Thursday August 4, 9.05pm. The show looked at the role of Māori in science and applied, cutting-edge technology. This is part of a special one hour programme to mark TVNZ 7's spotlight on Science + Innovation month.

Ngā Pae o te Māramatanga (NPM) is calling for research projects suitable for an intern to complete over a 10-week period. The internship programme is for Māori and indigenous pre-doctoral students who want to advance their skills and capacity in indigenous development research. Each student will work under the direction and guidance of a senior researcher within an existing programme of research aligned to the research direction of, but not necessarily currently funded by, NPM.

Submissions are open for The International Indigenous Development Research Conference 2012, hosted by Ngā Pae o te Māramatanga. The 5th biennial conference to be held 27th – 30th June 2012 will highlight indigeneity and the multidisciplinary approach used for indigenous development.

Auē ana te ao Māori i te kopinga whakamutunga o te waha o te kahurangi nei a Kāterina Te Heikōkō Mataira i tōna hinganga i ngā rangi nei. Nāreira, whakatā mai rā e te kaitaunaki o te reo Māori, nāhau nei rā hoki i whakapau tō kaha i ngā tau maha nei, kia noho pūmau tonu ai tō tātau reo motuhake nei ki tēnei whenua. Whakapiri atu rā ki a Ngoingoi, ki a Te Kapunga mā. Waiho mai mā ngā uri whakaheke te kaupapa nei e kawe ake ki roto i ngā tau e haere ake nei. Tihei mauri mate! Tihei mauri ora!
 

The purpose of the quantitative LiLACS NZstudy is to (i) establish how life is, (ii) what is important to ongoing wellbeing and (iii) record the pathways of living during the next 10 years for 600 Māori people aged 80 to 90 years old and 600 non-Māori people aged 85 years old living in Bay of Plenty, New Zealand. This multi-organisational study involves five Māori organisations and two non-Māori providers in the Bay of Plenty region. In this presentation, Dr Kēpa will discuss why and how the research is not merely a neat, linear process.

Student radio station BFM interviewed Ngā Pae o te Māramatanga Director Professor Charles Royal during te wiki o te reo Māori, Māori language week. Professor Royal discussed the goals and vision of the Centre; its Te Pae Tawhiti: Te Reo Māori research initiative; as well as his own research. Listen to the interview here.