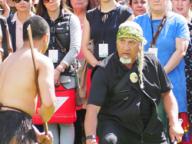 NPM is committed to holding the 9th Biennial International Indigenous Research Conference (IIRC20) in November 2020. The challenges we have all faced together this year has changed the nature of what is possible, but in just five months we will be hosting a unique and online "Gathering of Indigenous Minds".
NPM is proud to announce our now 3-day online international conference for the dates:
Wednesday 18th November - Friday 20th November (NZ Time)
The conference will be devoted entirely to an online gathering of presenters and attendees, and the IIRC20 virtual environment will enable us to reach out to national and international audiences, and allow us to share and engage against a landscape of ever changing global restrictions.
NPM will call for abstracts in late June.  We are mindful that one of the best components of a conference is the networking opportunities and so we are designing an interactive programme with a live audience, and opportunities for Q&A and social connection.
Updates and details for IIRC20 will be provided over the coming weeks, via this e-panui, on our social media pages and on the NPM IIRC20 website.
We are looking forward to hosting this "Gathering of Indigenous Minds", bringing us together from our various lands, home communities and institutions across the world.
Stay tuned and get ready for a new IIRC in 2020!