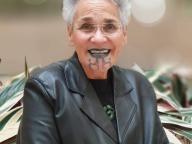 Kia Maumahara : Ways Forward
Huri noa ngā whakaaro ki ngā rā o mua rā……
Being Māori, we often think about ngā rā o mua, and try to learn from what our tūpuna did, especially when we are caught up in a time of current crisis, as we are today.
In November 1918, the world was still reeling from the slaughter of the Great War; but a silent enemy stalked Aotearoa/New Zealand when the soldiers came home. Official numbers cite nearly 6700 deaths by influenza in this country; of this count, 1130 were Māori. That is a conservative estimate, as Māori deaths were rarely notified, and in those days, many communities were never visited or noted by medical officers. They were merely neglected. The actual death toll in these kāinga was much higher. How did their tangihanga take place, if they happened at all? Or were they named, and mourned, and remembered, when the virus was over?
Even in those remote Waikato river communities who resisted conscription, influenza took away people in their prime. They were between 25-35 years of age, farmers, wage earners, fishermen and young parents. They left behind over a hundred orphans in desperate need. Te Puea Hērangi, charismatic and motherly leader, gathered these children together, and looked after them. She had a plan. She visualized a prosperous, self sufficient, productive settlement based on the riverbank, recalling the tongi of her grandfather Tāwhiao – "Ko Ngāruawāhia tōku tūrangawaewae". From her vision emerged the enduring and extraordinary housing and marae complex that so nobly serves the Kīngitanga and the Māori world today. Most importantly, this place remains a potent living memorial to those Waikato people taken by the influenza pandemic of 1918.
Tūrangawaewae was built through the tearful hard work, and sheer determination of their orphaned children; and it also recalls an earlier anguish, the craven brutality of raupatu, and the Land Wars. This is the power of memorial, and the process of remembering vast death.
Throughout the motu, many other hapū and iwi honoured loved ones lost in that pandemic. In Te Tai Tokerau, I know of three private tribal urupā at Te Tii Marae, Motukaraka Point and Omanaia where the kohatu refer to the 1918 flu epidemic; one laments the loss of twenty two family members; but the others are uncounted, and unnamed. Further south, at Te Reinga Marae in Wairoa, a majestic granite obelisk lists those people taken "i te mate uruta / kiia nei he whuru", and towards the centre of the island stand two ornamented columns. Carved by the renown tohunga tā whakairo Tene Waitere, these grand memorials near Taumarunui enhance the marae of Te Koura and Waimiha.  They recall that tragic period in 1918, when days of tangihanga were curtailed, and grief was held in, then released at another time, in another way. The survivors of those terrible times adapted; their resilience is marked by their ways of remembering; ways other than gathering together to relieve emotional pain, and find spiritual and physical reassurance.
Tangihanga is about comforting the bereaved. It has always been a ritual for the living, about the deceased, but focusing on what and whom the deceased leave behind. Tangihanga defines legacy, and inscribes memory; the living are reassured.
In the rupture caused by pandemic, or armed conflict, such practice is suspended; but memory remains.
That memory – the lives of people lost, of loved ones taken – is honoured by pou whakamaharatanga, by kōhatu, by whakairo; like kawe mate, the deceased is there again, their life celebrated, their stories retold and cherished.
Hei hononga atu ki te iwi kua whakangaro ki te pō…..
Nā,
Ngahuia Te Awekotuku 8 April 2020
Sources
'The 1918 flu pandemic', Online: https://nzhistory.govt.nz/culture/influenza-pandemic-1918, (Ministry for Culture and Heritage), updated 26-Mar-2020
King, M. (2008). Te Puea : A Life. Auckland, NZ: Penguin Viking
Wilson, N., Ferguson, C., Rice, G., Baker, M. G., Schrader, B., Clement, C., & Thomson, G. (January 01, 2017). Remembering the 1918 influenza pandemic: national survey of memorials and scope for enhancing educational value around pandemic preparedness. The New Zealand Medical Journal, 130, 1465, 53-70. Online: 
https://www.nzma.org.nz/journal-articles/remembering-the-1918-influenza-pandemic-national-survey-of-memorials-and-scope-for-enhancing-educational-value-around-pandemic-preparedness
Related Links
Thoughts on dealing with tangihanga during Coronavirus