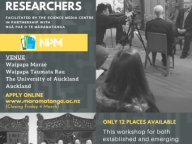 2022 Jun 13 12:00 AM to 2022 Jun 14 12:00 AM
Media SAVVY workshop for Māori researchers is a fees-free workshop aimed at increasing the visibility of Māori researchers and impacts from their work in both mainstream and Māori media outlets. The workshop is facilitated by the Science Media Centre, in partnership with Ngā Pae o te Māramatanga.
Entry is by application.
Applicants should be:
Māori researchers in any field, currently active and based in Aotearoa
Highly motivated to strengthen their media skills and confidence levels
Able to identify a research project or area of expertise of potential interest to media
Experienced with media or likely to encounter media interest in future
Researchers with formal ties to Ngā Pae o te Māramatanga or its many partner organisations will receive priority.
Applications for 2022 are now closed.
All workshop fees have been waived, thanks to support from A Nation of Curious Minds – He Whenua Hihiri i te Mahara, A National Strategic Plan for Science in Society. Please visit here for more information on our SAVVY training or to register your interest in future workshops.