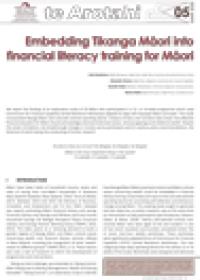 In our most recent Te Arotahi Paper (link to paper here), NPM researchers are calling for our policy-makers to recognise and respect Māori concepts of wealth in advancing Māori financial literacy, in the face of the additional challenges now in front of our communities in this fast changing world.  
A skilled and experienced cross institutional research team, led by Associate Professor Carla Houkamau (University of Auckland Business School), brought together a group of mostly low income Māori families to workshop the basics of money management within a kaupapa Māori environment and by doing so delivered  significant results, including establishing new savings habits and the clearing of entrenched debts. 
Māori have repeatedly stressed that wealth and well-being is not just about bank balances.  Instead for tangata whenua it is defined in terms of the quality of whānau relationships, whanau cohesion, and our children's capacity to thrive.  NPM's fifth Te Arotahi paper asserts that tikanga Māori values must form a core component of teaching financial management skills to our whānau and communities.  As we seek as a nation to ensure prosperity and well-being for all, the unique concepts of wealth that are defined by tikanga need to be valued equally with the practical skills of how to budget, manage debt, and calculate interest.
Co-Director of Ngā Pae o te Māramatanga Professor Jacinta Ruru is excited by the outcomes of this paper.  "This is really important and timely research as the country commits to a rebuild of Aotearoa New Zealand in our new and changed Covid-19 world.  We must ensure Māori values are front and centre of decision-makers as we begin to reassess what is important and what it is that we are going to do.  We need more than ever financial literacy programmes that make sense to Māori".
A previous report by Te Puni Kōkiri in 2015 - Whānau and Low-income Household Savings – had already pointed to a "pressing demand to build a greater degree of tikanga Māori and Māori cultural values concerning wealth into financial literacy services offered in New Zealand, including the recognition of what 'wealth' means to different groups".   
 
And so taking up Te Puni Kōkiri challenge, Dr Houkamau's team embarked on an exploratory study to identify how tikanga Māori and Māori cultural values concerning wealth can be embedded in financial literacy training. They  trialled culturally tailored spending diaries for promoting self-reflection and behaviour change, and completed weekly workshops - gaining insights into money, wealth and savings, and the influence of family relationships, expectations and obligations on personal finances and wellbeing. Participants in the study recorded and considered their behaviours in these workshops, and became more conscious of their habitual choices as a result. 
 
From these engagements and workshops, the team has confirmed  that "financial education programmes to help address Māori socio-economic disadvantage and financial literacy and capability may encounter disengagement unless the programmes reflect Māori cultural values, specifically relational concepts of wealth and well-being." 
 
Further study and consideration is needed, but it is clear that effective financial education for Māori must go beyond symbolism and commit to and entrench tikanga Māori values in order to succeed. True financial literacy will only come from targeting and harnessing the strengths of local communities and must explicitly recognise and honour Māori concepts of wealth and success.
 
The full report entitled "Embedding Tikanga Māori into financial literacy training for Māori" by Carla Houkamau, Alexander Stevens, Danielle Oakes and Marino Black is available to access here on our website