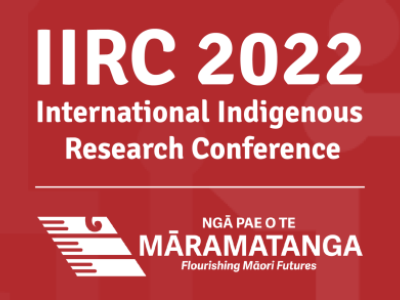 Celebrating 20 years of being Aotearoa New Zealand's only Indigenous Centre of Research Excellence, Ngā Pae o te Māramatanga (NPM) are excited to invite you to join us online from 15 – 18 November 2022 for our 2nd virtual and 10th International Indigenous Research Conference (IIRC).
Despite an increase in the number of people speaking Maori today, the quality of the language being used has declined as the number of native-speakers of Maori language has declined. This seminar is about a research project based on twenty hour-long recordings from Radio Kahungunu featuring two elderly women conversing in the Maori language. The rationale behind the project is to use the recorded voices of elders to help revitalise the Maori language.

Recent innovations in the means by which location information is obtained from vagile animals have catalysed the development of 'movement ecology' (see Nathan et al., PNAS, 2008), a new scientific sub-discipline which seeks to understand what factors influence the ecology and behaviour of animals by quantifying how, where, and when they move, and by identifying what factors influence the course of their 'lifetime tracks'.

Since receiving a Ngā Pae o te Māramatanga grant in 2005 the sculpture and video installation 'Āniwaniwa', by Brett Graham and Rachael Rākena, has been exhibited in Palmerston North, Hamilton, the International Arts Festival, Wellington, the 'Ten Days On the Island' festival, Hobart, Tasmania, and the 52nd Venice Biennale.

Late in 2009, Charles Royal was appointed Professor of Indigenous Development in the Faculty of Arts, the University of Auckland. In this seminar, Charles will explain why he chose the terms 'indigenous development' and by doing so, he will explain his view and vision of this field. For Charles, indigenous development contains three key themes:

• Decolonisation and Social Justice - addressing and overcoming difficulties, problems and issues arising from a history of colonisation and the inequities and inequalities that exist for 'indigenous peoples' today.

The questions through which Maori and non-Maori seek to understand our world differ as a consequence of differences in world view, language, origins, and experience of our separate and shared histories since arrival in New Zealand. Interactions of Maori and non-Maori with both research and education in science vary as a consequence. The challenge to our science community is to recognise that the scientific approach can be applied in situations that are completely foreign to our own assumptions and values.

 Drawing on the experience of Native nations in North America, this paper explores the ways that Indigenous peoples are reclaiming the right to govern themselves according to their own designs and putting those designs into practice by developing institutions that respond both to Indigenous cultures and to legal and political constraints.

 One role for research is to be used for social transformation in the interest of furthering social justice and human rights. If this is a role that is valued, then understanding beliefs that guide such research is critical. Professor Mertens will make a presentation about a set of beliefs that constitute the transformative paradigm of research. The transformative paradigm is situated in a belief that places priority on cultural responsiveness, reciprocity with communities, and addressing issues of discrimination and oppression. 

 

 

The Honourable Dr Pita Sharples, Minister of Māori Affairs launched Ngā Pae o te Māramatanga's new research initiative to discover the many diverse ways the Māori language adds value to society at Te Marae, Te Papa Tongarewa Museum in Wellington 8th of December.

This issue features a special section devoted to Community Research Engagement with a particular focus on exploring new methodologies for whānau (family) research. The collection of papers has been led by Dr Fiona Cram who joined our editorial team as a Guest Editor for this special section.

The section on Māori and Indigenous Poetry continues to develop momentum under the leadership of Dr Vaughan Rapatahana and Dr Helen Sword as editors. The poems in this issue draw attention to other ways in which we can consider the boundaries of enlightenment regarding Māori and Indigenous realities.