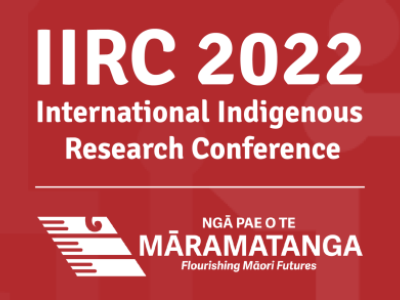 Celebrating 20 years of being Aotearoa New Zealand's only Indigenous Centre of Research Excellence, Ngā Pae o te Māramatanga (NPM) are excited to invite you to join us online from 15 – 18 November 2022 for our 2nd virtual and 10th International Indigenous Research Conference (IIRC).
"The gathering was a landmark event as the first of its kind in the South Island and it showed the great increase of Mäori researchers and the breadth of areas they were involved in."
-Dr Rāwiri Taonui, Head of Māori and Indigenous Studies at the University of Canterbury

Twenty years ago there was only a handful of Māori researchers with PhDs in New Zealand. But you only needed to visit the Ngā Kete a Rēhua Inaugural Māori Research Symposium held at the University of Canterbury in September to see how much has changed.

"Ngā Pae o te Māramatanga's MAI Doctoral Support Programme was of incredible value, especially in connecting me with other PhD students for advice."

"….a very positive experience. We were able to preserve our mātauranga
and build up our capacity in field work survey and monitoring methods
along with gaining a new knowledge about our manu in the process."
Toko Renata, Chairperson of the Ruamaahua Islands Trust

"I think all New Zealanders pride ourselves on being clean and green, but we are increasingly asking what we need to do to protect that…"

When winning support from local authorities, these days it's the numbers that talk. And as a scientist with Manaaki Whenua Landcare Research based at Lincoln near Christchurch, Dr James Ataria has been using them eloquently for some time in collaborative research projects helping local communities protect culturally significant environments.

"We want our children to go out from school confident of who they are, where they come from and who they represent."

"It's important the stories people tell about themselves," Hāromi Williams says. At her office at Tāneatua near the Urewera, where she is Executive Manager of the Tūhoe Education Authority (TEA), she explains it's a lesson she first learned forcibly when teaching adult migrant students in Sydney's western suburbs learning English as a second language.

"Teachers enter the profession because they want to make a difference. This approach helps them do that."

MORE THAN 30 years ago when Russell Bishop first started teaching at Mana College in Porirua, he was struck by a single question: Why did so many Māori students start out well but still fail as they went through school?

"To generate good health policy you need to ensure that the younger population doesn't miss out."

"We are taking a strengths-based approach. So that teachers can go from where they are now to where they want to be."

AS EVERY CHILD knows, learning to read means first cracking a code. The next challenge is reading to learn – when you move from just identifying the words to extracting deeper comprehension.

Without Ngā Pae o te Māramatanga, New Zealand research on evolution hailed as a breakthrough by the world's leading news media would never have happened.

LIKE MANY A scientific race, it came down to the wire. When Dr Shane Wright, at the School of Biological Sciences at the University of Auckland, published new findings on the speed of evolution in top scientific journal, the Proceedings of the National Academy of Sciences of the United States of America, a rival team from Florida followed home just three weeks behind.

At Ngā Pae o te Māramatanga we now manage a database of well over 500 Māori scholars. Twenty five ago years ago Māori academics were so few we'd have had no need for the resource. As for Māori PhDs, with a national total of around 20, some academics would have been realistically able to name them all.